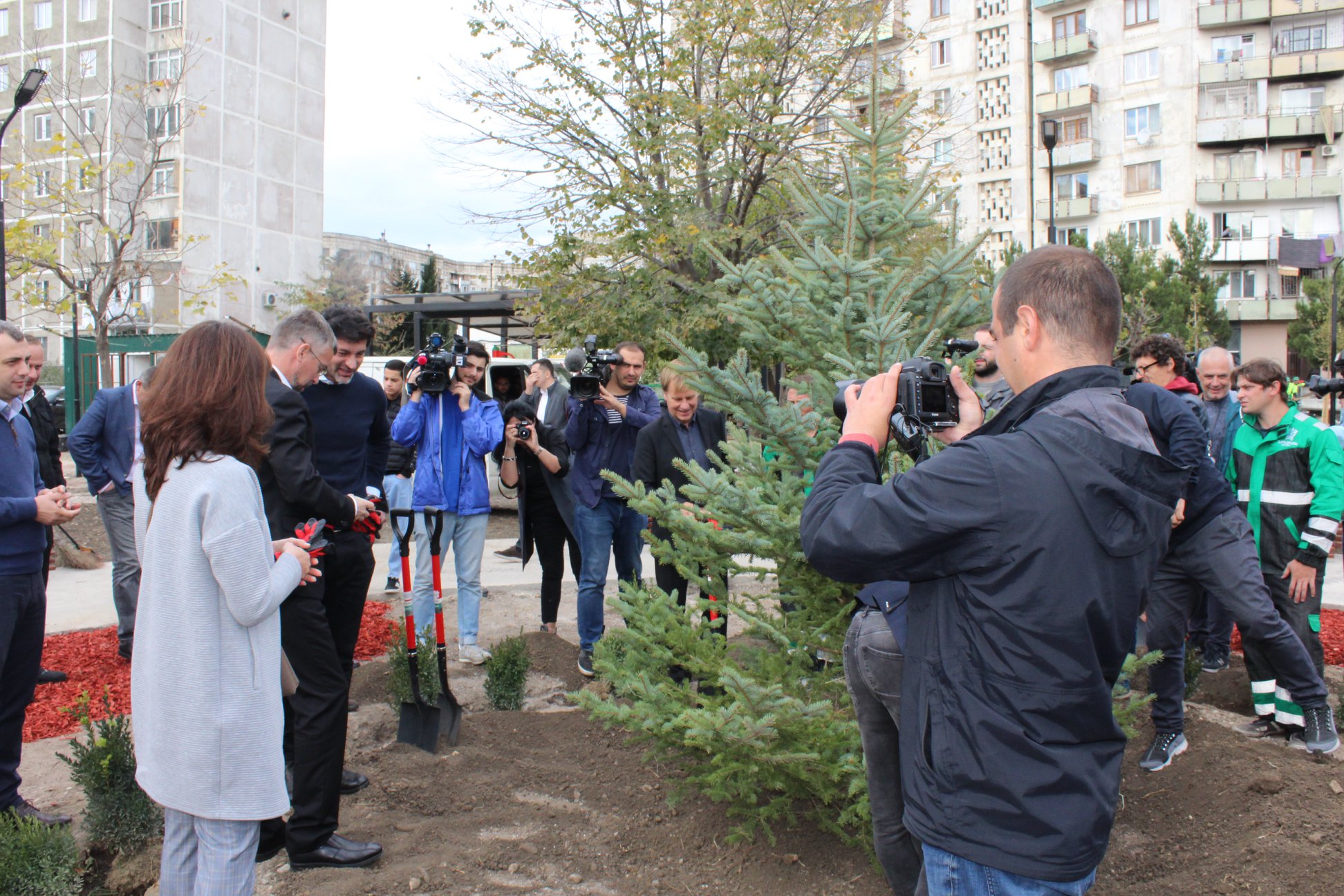 The Swedish-Georgian Friendship Green Corner was opened on October 31, 2019. This Green Corner is a symbolic expression of Swedish-Georgian cooperation and our will to make the planet clean and green, as it is a common global house for everyone.
The Green Corner will be an area of meeting for Swedish alumnus and citizens to share ideas and values, discuss relevant for them issues and have ecologically clean space and play zone for children including Pippi house for little ones.
Georgian Society of Nature Explorers "Orchis", under the frame of Keep Georgia Tidy project supported by Sweden in collaboration with Sweden Alumni network in Georgia and City Hall, planted 150 tree seedlings (spruce, box tree, pine, maple) in the Georgian Sweden Friendship Green Corner, which is located in the park of Varketili. Seedlings were also planted in the neighbourhood of the park of Varketili. This campaign was carried out in close cooperation with Tbilisi City Municipal Assembly.
The Ambassador of Sweden in Georgia, his Excellency Mr. Ulrik Tideström, Head of the Development Cooperation of the Embassy of Sweden, Mr. Erik Illes, Mayor of Tbilisi Mr. K. Kaladze, Deputy Mayor of Tbilisi Mrs. M. Bitadze, Head of the Municipal Department of Environment Protection Mr. G. Gigashvili, member of Tbilisi Assembly Mr. R. Sokhadze and representatives of the partner NGO implementing the Keep Georgia Tidy Project participated in this campaign.
A single tree planted by any person either in urban or in natural environment may bring incomparably big benefit in future. Forests are one of the most effective instruments for the reduction of climate change. Bio-restoration measures cut emissions of greenhouse gases. Trees absorb carbon dioxide, one of the major climate change contributors, and thus diminish its concentration in the atmosphere and respectively the rate of climate change. Through these measures Keep Georgia Tidy Project will significantly contribute to the fulfilment of the Sustainable Development Goals.
Keep Georgia Tidy Project, plans to promote and implement bio-restoration activities including planting of native tree and shrub species (16 000 seedlings) over 16 ha areas cleaned-up in semi-arid regions of Georgia in order to facilitate to the reduction of desertification process in such regions of the country.
"Keep Georgia Tidy" Project is being implemented by a consortium of NGOs: Georgian Society of Nature Explorers "Orchis", Keep Georgia Tidy and Greens Movement of Georgia/Friends of the Earth-Georgia, through financial support of the Government of Sweden.