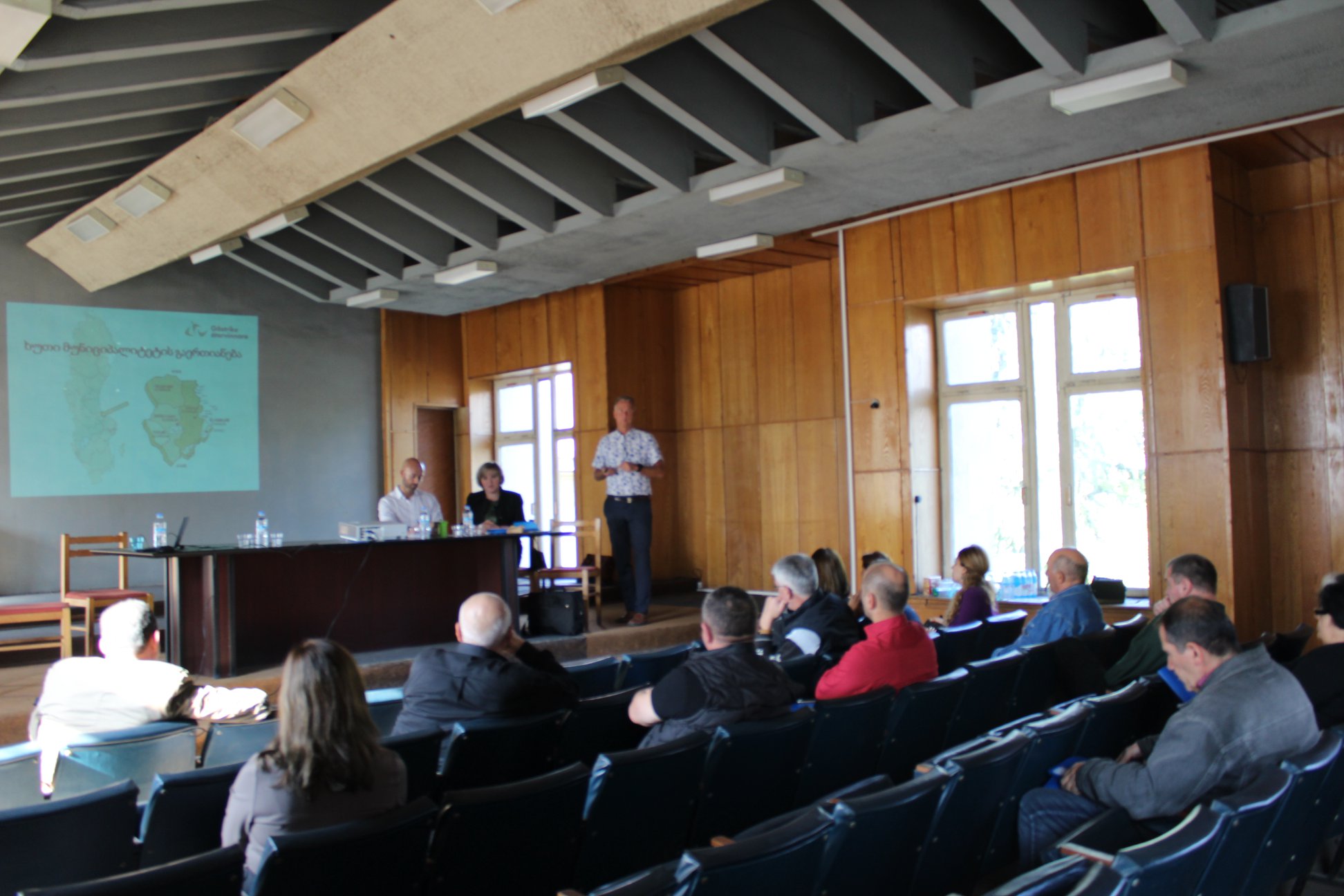 In the frames of "Keep Georgia Tidy" project on October 21, 22 and 23, 2019, Georgian Society of Nature Explorers "Orchis" with its Swedish partner organization "Gästrike Atervinnare" held meetings in the municipalities of Sagarejo, Signagi, Lagodekhi and Dedoplistskaro, Kakheti Region regarding the development of Regional Waste Management Plan for Kakheti Region. The meetings were attended by: Mayors, Deputy Mayors of respective municipalities, department heads and specialists of Mayor's Offices as well as representatives of limited liability companies, non-entrepreneur (non-commercial) legal entities and media, total 65 persons. Among participants of the meetings were: Waste Management Experts of Georgian Society of Nature Explorers "Orchis" – Kh. Chikviladze and N. Buachidze, and International Experts from Sweden – Per-Olof Hallberg and Johan Englund.
The topic of the day of these meetings was the implementation of a modern waste management system on the regional level in Kakheti, and specifically the development of the Regional Waste Management Plan taking into consideration requirements of the Waste Management and Regional Development Strategies, EU standards and experience of Swedish Gavle Association. Swedish experts informed participants about facilities subject to needs analysis and main aspects of SWOT analysis (Opportunities and Challenges). They also discussed the vision for waste management on a regional level and defined respective objectives.
Specific objectives of the "Keep Georgia Tidy" project are: to attain environmentally conscious generation and to reduce pollution from municipal waste (40%) and greenhouse gas emissions (10%) in Georgia By 2023.
"Keep Georgia Tidy" Project is being implemented by a consortium of NGOs: Georgian Society of Nature Explorers "Orchis", Keep Georgia Tidy and Greens Movement of Georgia/Friends of the Earth-Georgia, through financial support of the Government of Sweden.