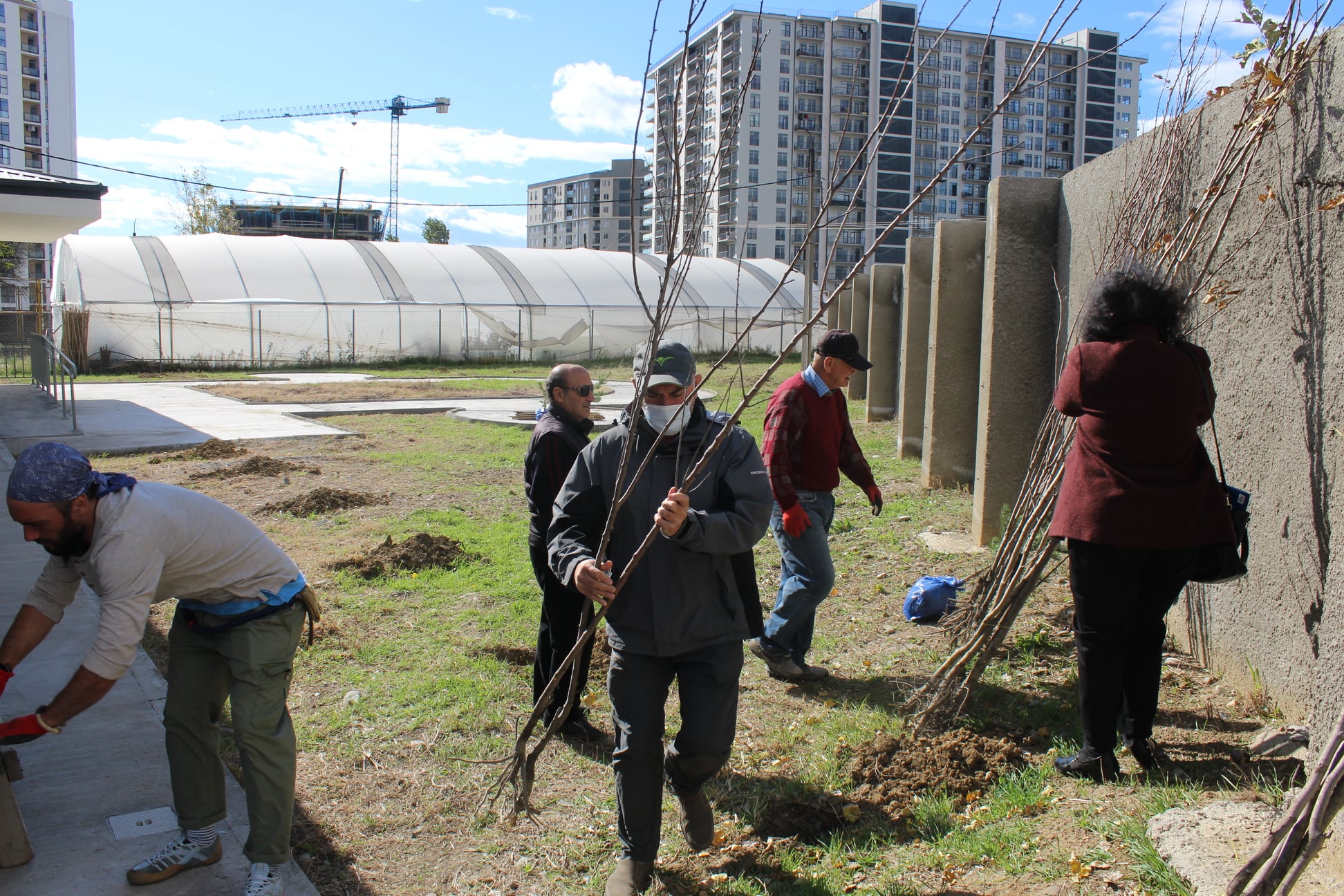 On 20th October 2021, Georgian Society of Nature Explorers "Orchis" (GSNE "Orchis") organized a tree planting campaign on the territory of the Department for Infants Needing Special Care of Tbilisi Infant House, which is a branch of LEPL Agency for State Care and Assistance for the (Statutory) Victims of Human trafficking. GSNE "Orchis" purchased 20 seedlings of Caucasian pine, 10 seedlings of Georgian almond and 10 seedlings of common walnut from Georgian Seedlings Ltd for this event.
These 40 seedlings of the native species were planted in the yard of the Infant House. The Department Head Mrs. Tea Simonia as well as administration and teachers of the department participated in the tree planting campaign together with the representatives of GSNE "Orchis".
The territory of Tbilisi Infant House was gardened in full compliance with the rules and restrictions established by the Government of Georgia due to the pandemic situation, including the maintenance of social distancing and other legal limitations.
In overall, the landscape gardening campaigns as well as activities carried out to restore vegetation, forest and habitats in the frames of the Keep Georgia Tidy Project facilitate the achievement of the Sustainable Development Goals (SDGs). The SDGs cover wide range of issues and address crosscutting components of the sustainable development: economic growth, social inclusion and environmental protection. In this context, the measures for the protection, conservation, prevention of degradation and restoration of biodiversity are essential components of the sustainable development and accomplishment of the SDGs, which could be mainly achieved through the maintenance of multiple and key ecosystem services offered by the biodiversity.
Generally, biorestoration and tree planting measures are among the most effective instruments for climate change mitigation. Trees absorb carbon dioxide, one of the major climate change contributors, and thus reduce its concentration in the atmosphere and respectively the level of climate change. That's why global environment protection society (and not only they) pay particular attention to forest restoration in the context of combating climate change, and that's why the tree planting and reforestation / afforestation activates can bring particular benefits.
Keep Georgia Tidy Project is being implemented by Georgian Society of Nature Explorers "Orchis", through funding of the Government of Sweden, with support of Georgian Ministries of Environmental Protection & Agriculture, Regional Development & Infrastructure, Economy & Sustainable Development, Education & Science, and Culture & Sport, and in cooperation with the Solid Waste Management Company of Georgia and Environmental Information & Education Centre.