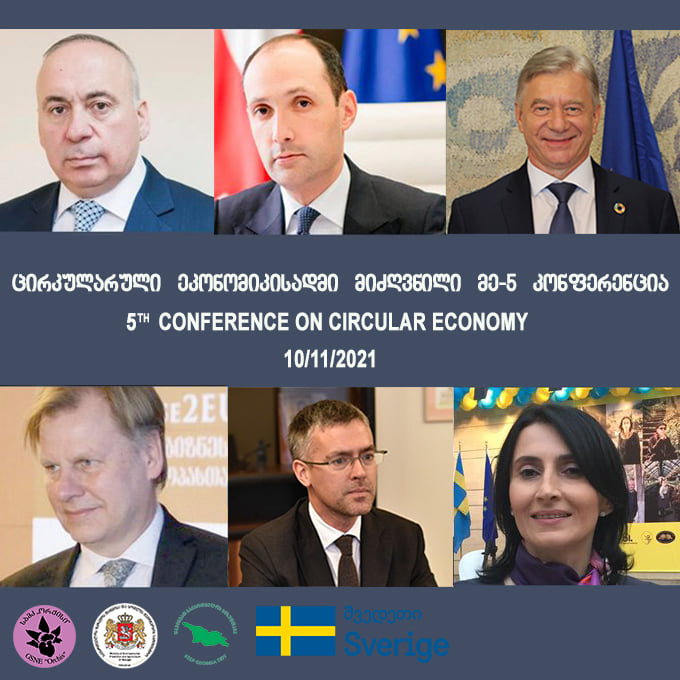 On 10th November 2021, the 5th Conference on Circular Economy will be held in Tbilisi to facilitate the accelerated transition to the Circular Economy and efficient implementation of this system in Georgia.
After the four circular economy conferences that have been held during 2019-2021 for the state, regional and municipal authorities, businesses and financers in the frames of the Circular Economy Programme funded by the Government of Sweden, the fifth Conference on Circular Economy is targeting the policy makers as one of the key enablers of the transition process.
The keynote speaker of the conference will be Dr. Dariusz Edward Prasek, an International Expert in environmental, social and governance areas and Circular Economy, member of the United Nations Advisory Board on Circular Economy, former Director of Operations in Environmental and Sustainability Department of the European Bank for Reconstruction and Development, Independent Expert on Development Financing at IDB Invest, who will inform attendants about main aspects of the transition to the circular economy, how this system could be efficiently implemented and what is the specific role of the policy makers in this process.
Another speaker of the Conference will be Mr. Timo Mäkelä, who has 40-year experience in environmental, finance and sustainable development areas. He was employed by the Government of Finland, EBRD, European Commission, and Finnish Innovation Fund Sitra in different periods. Mr. Mäkelä also served as an EU ambassador to Finland for 4 years. He will inform the attendees about the details of EU Green Deal, as well as Finnish Approach and Experience in Accelerating the Transition to the Circular Economy.
This training programme has been designed through funding of the Government of Sweden to raise awareness about the circular economy among wide range of stakeholders. Its purpose is to provide recommendations to various groups of stakeholder, including policy makers, financial institutions and businesses how to speed the adoption of circular economy principles at various levels of the national economy. Particular emphasis is put on recommendations such are: to improve financing conditions and removing barriers for circular economy projects as well as to identify main areas where incentives should be provided.
• The transition to a circular economy requires a radical change in the way we produce and consume. In a circular economy, products are designed for durability, upgradeability, reparability and reusability. Companies develop new business models generating revenue streams from services rather than products, while consumers use products efficiently and discard them in such a way that they can be reused or, if this is technically or economically unfeasible, recycling operators turn them into secondary materials that can enter a new production-consumption cycle.
• The circular economy concept is gaining attention in light of increasing consumption and resource use by a fast-growing population with rising standards of living. This is a new economic model that represents sustainable progress towards efficient green growth.
• Like with any systemic change, the transition to the circular economy requires several elements of the system to change simultaneously. Such a change should be supported by a well-functioning, non-distortive policy and regulatory framework, which ensures a level playing field for circular economy business models.
• Various expert groups have identified several key recommendations for financial and non-financial policy makers, project promoters and public authorities to achieve concerted actions in the acceleration of the circularity measures. One of the common themes in these recommendations is the role of public authorities and the need to increase their capacities.
• Public authorities, on all levels, can provide incentives to promote circular economy models via, for exam¬ple, public procurement, subsidies, taxation and funding. They have the legitimacy and means to reward positive externalities.
The Conference is arranged commonly by the Ministry of Environment Protection and Agriculture and Georgian Society of Nature Explorers "Orchis" in the frames of the Circular Economy Programme financed by the Government of Sweden and implemented by GSNE "Orchis" with the support of Georgian Ministries of Environmental Protection & Agriculture, Regional Development & Infrastructure, Education & Science, and Culture & Sport, in close cooperation with the Solid Waste Management Company of Georgia and Environmental Information & Education Centre.