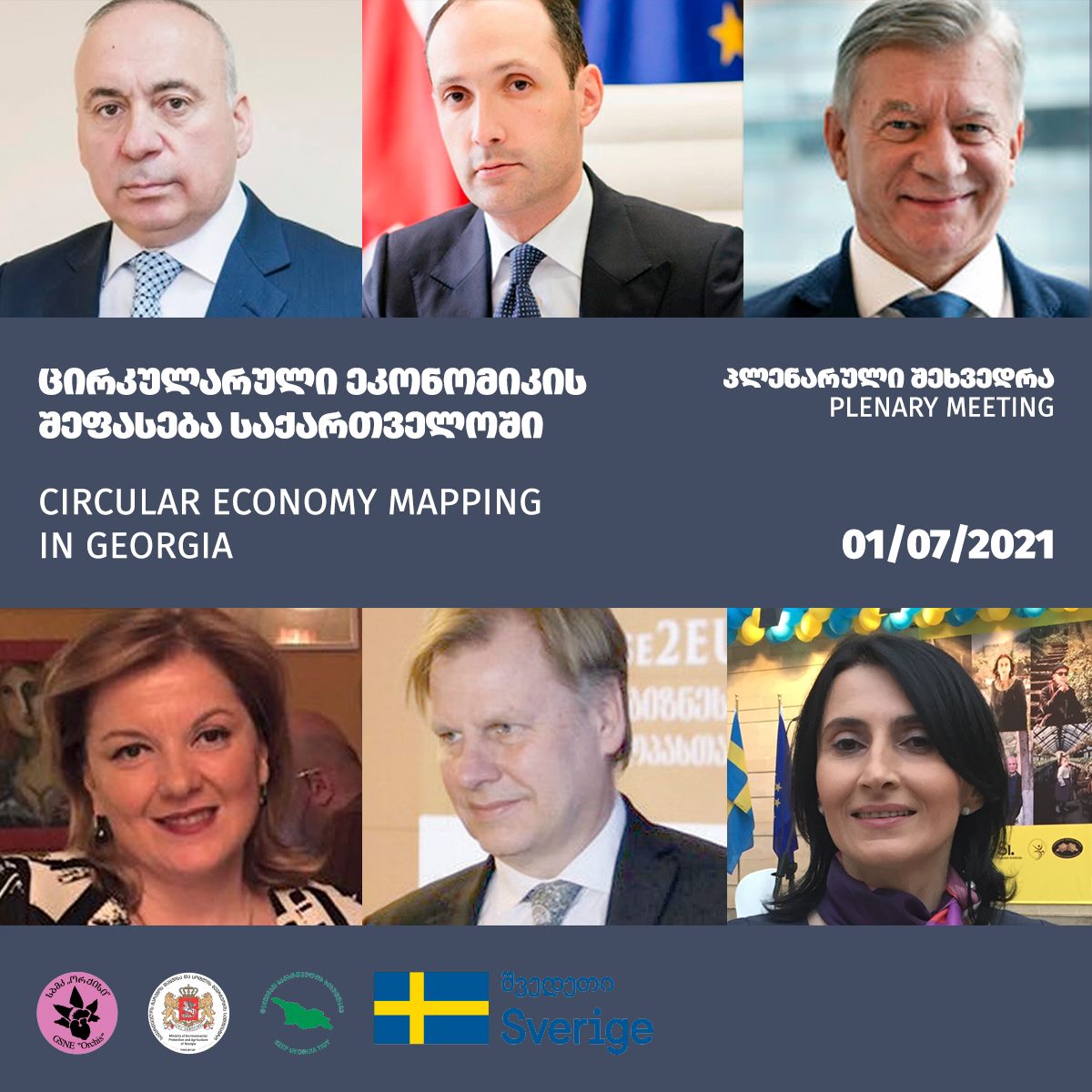 On 1st July 2021, the first Plenary Meeting on Circular Economy Mapping in Georgia will be held in Tbilisi to bring together inter-ministerial working group of the Government of Georgia and the Circular Economy Mapping task group of the Georgian Society of Nature Explorers "Orchis" to discuss aspects and challenges of the circular economy mapping process in Georgia, and methodological approach proposed for the circular economy mapping and development of the road map to circularity.
The first step in the accelerated transition to circularity is mapping how circular is the economy of Georgia and developing recommendations for the Circular Economy Strategy. These activities have already commenced as a part of the ongoing programme implemented by the GSNE "Orchis" within the framework of "Keep Georgia Tidy" Project supported by the Government of Sweden. The key objectives of this call for a close cooperation of the task group of international and local experts and the representatives of the Government of Georgia to map the current level of circularity, to establish appropriate national quantitative circular economy policy targets and circular ambitions, identify sectoral opportunities and determine sector-specific policy options and subsequently develop recommendations for the Circular Economy Roadmap and Strategy of Georgia.
The implementation of the circular economy mapping programme is led by an International Expert in the Circular Economy Dr. Dariusz Prasek – Doctor in Environmental Engineering, International Expert in Environmental, Social and Governance Areas, former Director of Operations in Environmental and Sustainability Department of the European Bank for Reconstruction and Development, member of the United Nations Advisory Board on Circular Economy, and Independent Expert on Development Financing at IDB Invest. He is supported by a group of local Georgian experts with a sound knowledge of the Georgian economy and environmental, social and governance issues. In addition, the Government of Georgia has formed an inter-ministerial working group which includes members from different government departments, to ensure broad expertise as well as early buy-in from these key departments.
The Plenary Meeting is arranged in the frames of 'To Map Circular Economy in Georgia' component of Keep Georgia Tidy Project by GSNE "Orchis", through funding of the Government of Sweden, with the support of Georgian Ministries of Environmental Protection & Agriculture, Regional Development & Infrastructure, and Education, Science, Culture & Sport, and in cooperation with the Solid Waste Management Company of Georgia and Environmental information & Education Centre.