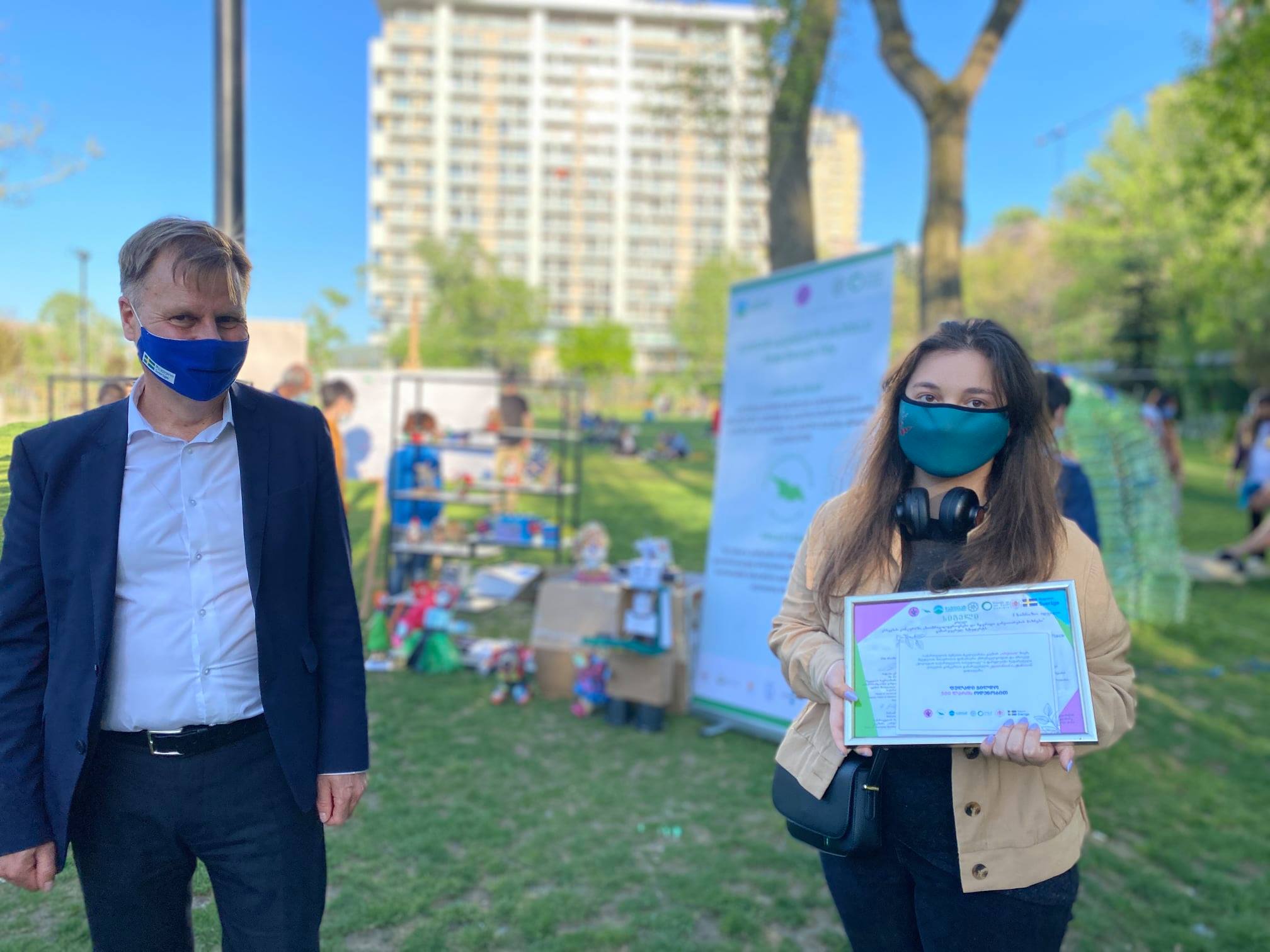 On 23rd April 2021, Georgian Society of Nature Explorers "Orchis", together with its partner NGO "Keep Georgia Tidy" and with financial support of the Government of Sweden, organized an awarding ceremony for students winning in I and II Essay Competitions and the contest Eco-Hero in Tbilisi, Mziuri Park.
Among participant of this event were: Acad. Solomon Pavliashvili – the Deputy Minister of Environment Protection and Agriculture, H.E. Mr. Ulrik Tidestrom – the Ambassador of the Kingdom of Sweden to Georgia, Mr. Erik Illes – the Head of Swedish International Development Cooperation Agency in Georgia/Deputy Head of Mission, Mrs. Khatuna Zaldastanishvili – the Program Manager of Swedish International Development Cooperation Agency, Dr. Mariam Kimeridze – the Chair of GSNE "Orchis", and Mrs. Elene Loladze – the Director of Keep Georgia Tidy. They awarded to the winners the commemorative certificates, as well as the monetary award of 500 GEL (I place) and 400 GEL (II place).
The goal of the Essay Competition was to promote issues related to the environmental protection and the Sustainable Development Goals as they are perceived by the youth, and to increase their engagement. The students from different regions of Georgia took part in this competition. The essays submitted by the students were evaluated by the competent Jury, which identified the winners per each of the competition themes.
The winners of the I Essay Competition are:
Theme: Medical Waste and Pandemic
Anano Peikrishvili – a student of Free University. The essay "Impact of Pandemic on Ecological Status of the Environment"
Theme: Biodiversity
Giorgi Javakhishvili – a student of Ilia State University. The essay "Impact of Invasive Species on the Ecosystem"
Theme: Waste Management
Saba Iobashvili – a student of Ilia State University. The essay "Efficient Waste Management and Georgian Reality"
The II Essay Competition included three themes as well.
3 winners were selected for the first place:
Theme: Biological Diversity and Sustainable Development Goals
Eleonora Chania – Iv. Javakhishvili Tbilisi State University. The essay "Sustainable Development Goals Not Directly Connected to Biodiversity Protection and Benefits of Their Fulfilment"
Theme: Climate Change
Anano Peikrishvili – Free University of Tbilisi. The essay "Mitigation of Climate Change and Significance of Awareness Raising Measures in this Context"
Theme: Dumpsites and Environmental Pollution
Saba Iobashvili – Ilia State University. The essay "Adverse Impacts of Dumpsites on Environment and Human Health"
3 winners were selected for the second place as well:
Theme: Climate Change
Nino Gochitidze – Batumi Navigation Teaching University. The essay "Mitigation of Climate Change and Significance of Awareness Raising Measures in this Context"
Theme: Dumpsites and Environmental Pollution
Gvantsa Dzidziguri – Iv. Javakhishvili Tbilisi State University. The essay "Adverse Impacts of Dumpsites on Environment and Human Health"
Mikheil Serebryakov – Georgian Technical University. The essay "Adverse Impacts of Dumpsites on Environment and Human Health"
"Keep Georgia Tidy" Project is being implemented by the NGO Consortium: Georgian Society of Nature Explorers "Orchis", Keep Georgia Tidy and Greens Movement of Georgia/Friends of the Earth Georgia through funding of the Government of Sweden, with support of Georgian Ministries of Environmental Protection & Agriculture, Regional Development & Infrastructure, and Education, Science, Culture & Sport, and in cooperation with the Solid Waste Management Company of Georgia and Environmental information & Education