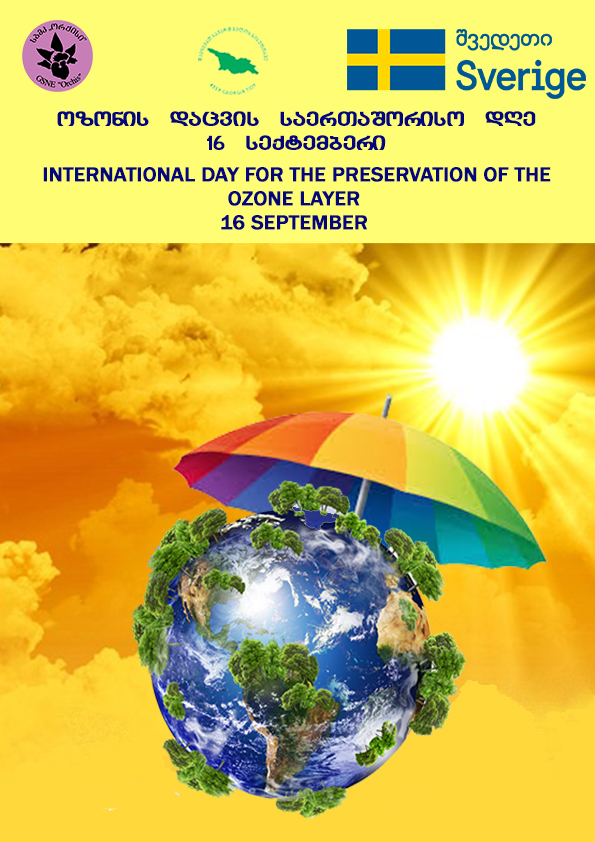 In 1994, the United Nations General Assembly designated 16th September as the International Day for the Preservation of the Ozone Layer to commemorate the date of the signing of the Montreal Protocol. Since then, this day has been marked by many countries.
The ozone layer protects the Earth from the Sun's ultraviolet radiation, which can adversely affect people, animals and plants.
Georgia joined the Vienna Convention and the Montreal Protocol in 1996, and with this, took an international commitment to phase out the use of ozone-depleting substances. To achieve this, Georgia has put considerable efforts and attained tangible progress in cooperation with the international institutions.
Ozone is a specific form of oxygen. It is a very small component of the atmosphere, but extremely important for the human being. The major portion (90%) of atmospheric ozone is concentrated in the stratosphere, from 10 to 40 km above the Earth's surface.
Without the sunlight, the life could not be possible on the Earth; however, without the ozone shield, the solar energy would be too destructive for the life. It protects the Earth from the harmful ultraviolet radiation. Therefore, when in 1970s the scientists discovered that human activities entail forming of holes in the ozone layer, they beat the alarm and urged the society to take prompt actions. Ozone holes are formed due to the ozone-depleting substances, which are used in aerosols and coolant systems (fridges, conditioners), have potential to notably increase incidence of diseases (skin cancer, cataract), and are harmful for vegetation and ecosystems in general.
Acknowledging the necessity for global preventive measures, the governments all over the world adopted the Vienna Convention for the Protection of the Ozone Layer in 1985. In line with the Montreal Protocol of the Convention, the scientists and industrial sector, with common efforts, have managed to cut the use of all ozone-depleting substances by 99 per cent. Thanks to the Montreal Protocol, the ozone layer has begun recovery, and it is anticipated that it would be restored to 1980 levels by 2050. In 2016, the Kigali Amendment to the Montreal Protocol was adopted (to be phased in since 2019) with the purpose to contribute to the climate change mitigation by gradually diminishing the consumption and production of hydrofluorocarbons (HFCs) so that to keep climate warming in the range of 2,0-1,50C through reducing the impact of greenhouse gases (GHGs). That is, this document envisages implementation of actions that cut the emission of HFCs.
In addition to the call to protect the ozone layer, the purpose of the International Day for the Preservation of the Ozone Layer is to mark such achievements. Common actions and decisions based on the scientific knowledge present the best way for overcoming global issues and crises. The public awareness raising and engagement in these matters, that could be achieved by commemorating the Worlds Ozone Day, are therefore important.